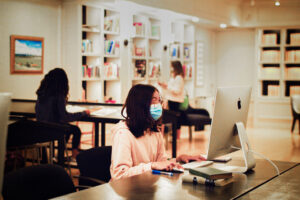 The school day begins at 8:15 a.m. with academics. Most students have two to four classes in the morning, depending on the day's schedule.
At 11:20 a.m., a hearty hot lunch is served. This home-cooked, buffet-style meal typically includes soup, rice, a vegetable dish, a meat dish, and fresh fruit. On Fridays, our World Cuisine days, the smell of organic homemade pizza, hamburgers, and tacos often drifts from our commercial-grade kitchen.
After lunch, the bell rings for a final academic class at noon. Arts classes follow from 12:55 – 3:25 p.m.
Many students choose to stay after school for study hall, student clubs, and/or extra practice time in the studios.